In the world of fashion & jewelry, Custom Designed Jewelry has become immensely populated among the women. The design of the personalized jewelry is usually inspired by the ideas and imagination of common people, which is being executed by trained jewelry designers. Thus, it has become a preferable trend among women, as the result, more jewelers are involving into creating & designing the wide range of Custom Design Jewelry and handmade jewelry. The best thing about personalized jewelry is that it can provide you with unlimited flexibility to expand your creative ideas. Being one of the renowned Diamond Jeweler across Concord, we, at Ellis Fine Jewelers are specialized in creating & designing Custom design jewelry. Our staff of professional designers is impeccable in executing the ideas and imagination of customers into a beautiful and an awe-inspiring piece of jewelry that can take their jewelry experience a leap ahead of their imagination. Since our inception, we have delivered many of our clients with beautiful Custom Design Jewelry. The credit goes to our skilled designers and their cutting-edge approach of designing custom jewelry. In today's blog, we will highlight step wise approach of Ellis Fine Jewelers that can give you a better insight of our process and approach to create and design Custom Design Jewelry.
Step 1- Sketching of Custom Jewelry Idea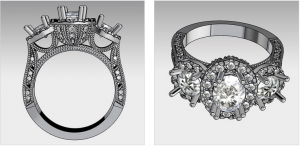 This is the initial phase of custom designing jewelry in which one of our skilled designers will sit with you, listen and discuss your jewelry ideas. If necessary, the designer will recommend a few ideas to make your piece more attractive. Finally, our expert will design your sketch on the paper. If in case you want to get something changed in the designed sketch, you are free to do the alteration & changes and it won't be finalized until and unless we hear from you.
Step 2- Choosing Stones/Diamond
In the next step, we focus on designing your customized jewelry and the most crucial part of designing personalized jewelry is selecting the perfect stone or diamond for the jewelry. We can also help you in choosing & selecting the Gemstone/Diamond that can perfectly compatible with the proposed design idea. To achieve this, we will first educate you about the stones and its quality.
Step3 - CAD - Computer Aided Design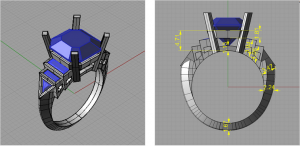 After completing idea & conceptualization task, we move on to the CAD (Computer Aided Design) process. In this phase, we create a 3D model that gives you a clear computerized picture of your desired jewelry from all angles. We then mail this CAD model via email, so, that if you wish to make modifications to any element, you can easily do that.
Step 4- Create 3D Wax Molding

Immediately after getting approval on CAD from your side, we start work on to create a 3D wax model.
Step 5- Casting & Finalizing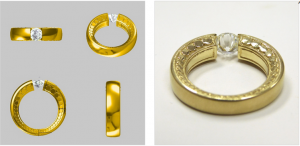 In this last stage, our meticulous Diamond setter and Goldsmith will cast out of the 3D wax model into the metal of your choice. After this, we set the diamonds or gemstones to embellish your Custom Design Jewelry. Now your dream jewelry is ready to wear. Thus, these were our step wise approach that can help you to acquire your dream Custom design jewelry without any efforts. Check out our Custom Design Jewelry samples. Call us at 704-782-9314 to fix your appointment and share your jewelry ideas with us. We love to work with you and deliver you with the stunning piece of jewelry that can leave you happy.