Stud earrings are never out of style, and we'd be surprised if you don't have a stud earrings collection of your own to flaunt! The thing is not everybody is good at shopping, especially when it comes to jewelry.
To make sure you don't subject yourself to a regretful purchase, it is important that you understand what to look for when buying stud earrings.
Here's an article from eBay that provides some tips for buying stud/solitaire earrings.
Twelve Tips for Buying Stud Earrings
As fashion changes, so do popular jewelry styles. Earrings that were in one year can be out the next. Only the stud earring, a classic but simple design, is a perennial fashion favorite. These small earrings feature metal balls, gemstones, crystals, plastic adornments, and decorations made from wood and stone. They are perfect for the individual who wants to find go-to accessories at affordable prices. Use the following tips as a guide when shopping for stud earrings both through online retailers and in brick-and-mortar stores.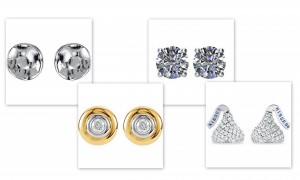 Stud Earrings
1. Consider Purchasing Semi-Precious Gemstone Studs
Many stud earrings feature simple plastic or metal balls that sit against the earlobe. While these earrings may be great for everyday wear, they are hardly eye catching. Those individuals who want to turn heads with their accessories should choose gemstone stud earrings. See full post here
Find a dazzling array of stud earrings here at Ellis Fine Jewelers.