Gemstones are the mineral equivalents of flowers! Colorful, vibrant and luxe, the exuberance of gemstones is undeniable. Popular since civilizations established themselves across the globe, the history of gemstones is rich with lore and mythology. It is asserted that each of the gemstones possesses a certain, unique quality that empowers the bearer with its benefits.
Through most of history, all crystal minerals were considered precious and rare. However, with the advent of modern mining techniques and exploration, gemstones soon came to be divided into precious and semi-precious varieties. New discoveries led to increasing the disproportion between the two with only diamonds, rubies, sapphires and emeralds remaining as the undisputed precious stones. Usually, all the other gemstones are classified as semi-precious.
However, the usage of these terms and the classification of gems into precious and semi-precious is in itself highly disputed. Most industry experts are averse to this classification as it could be misrepresentative. It is no longer imperative that precious stones be more expensive or even more desirable than semi-precious gems.
Indulging in gemstone jewelry is a somewhat specialized act. Not all gemstones may appeal to you or complement your style. In order to stand out among the ever-increasing crowd, you must find a style that is unique and complemental toward the persona that you want to exude.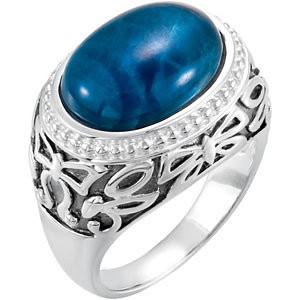 GEMSTONE JEWELRY
Award-winning jewelry designer Mark Schneider has some thoughts to share on how to find signature gemstones for you
When it comes to gemstones, the possibilities may feel endless. With sparkling cuts and beautiful colors, gemstones are alluring and choosing a signature stone is difficult. However, a signature gemstone provides numerous benefits including the ability to put your unique signature on everything you wear. Overall, the most important part of choosing a signature gem is finding a stone that speaks to you.
For many people, birthstones are the place to start. Assigned according to birth month, birthstones are a unique and simple way to choose a signature gemstone. Birthstones, or natal stones, are based on vibration power. According to some experts, some gemstones have more vibration power, or strength, at certain times of the year. The gemstone with the highest strength for a particular month is the assigned birthstone. However, if your month's stone isn't to your liking, fear not. Zodiac signs can also be utilized when choosing a signature stone.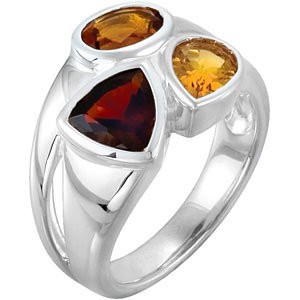 GEMSTONE JEWELRY
Zodiac based gemstones, or Astral stones, have a long history in astrology. In ancient times, astrologers believed that astrology signs determined fortune, success, and happiness. Because of this, astrologists studied the sky for answers regarding why certain stones supposedly held magical powers. Although there is no central authority for Zodiac based gemstones, the traditional Hindu source is arguably the most accurate. If astrology is too fantastical for your taste, then perhaps it's best to look inwards.
When in doubt about the best gemstone to choose, choose according to personal preference. Gemstones come in an astonishing array of natural colors and playing favorites is definitely allowed. Whether it's been your favorite color since you were a child or you're merely drawn to the hue upon impulse, embrace your bias and choose your signature gem accordingly. Because most gemstone jewelry provides a subtle yet stunning pop of color, it's difficult to choose a "wrong" signature stone. However, if color proves too difficult, there's also the option of adhering to legends.
Most gemstones have a long history of folklore and the imagination. The Ancient Greeks believed Amethyst could ward of drunkenness. Even beyond that, the Greeks believed that the god of wine, Dionysus, created the beautiful purple stones. Regardless of why you adore a particular gemstone, embrace your connection with the precious metal and commit to a signature gem. You'll never look back.
Once you've found what works for you, the next most important thing is to color coordinate your gemstone jewelry and who better to guide you than Mark Schneider once again.
Color coordination is largely instinctual. An outfit comprised of hot pink, baby blue, and a splash of orange is typically categorized as "too much," while a light pink shirt and dark jeans is "just enough." But the rules of fashion are changing. Prints are popular, and not only for shirts. Subtly printed pants, cardigans, and skirts dominated the spring runways, and new color combinations made their debut. Electric green pants were paired with bright pink cardigans and the outfit looked stunning. When it comes to colors, this summer is all about taking chances and gemstone jewelry is no exception.
The key to incorporating colored gems in an already colorful outfit is subtle matching. The first step is to determine the primary color in your outfit. For example, when wearing floral patterned pants and a mostly yellow shirt, the primary color is yellow. Next, consult a color wheel. The colors across from your primary color are most complementary for the outfit. For yellow, the colors blue, purple, and pink are recommended. Pink tourmaline, amethyst, or sapphire would be the gemstones of choice. Wearing colored gemstones that are not the primary outfit color ensures that the entire outfit is brought together and made cohesive.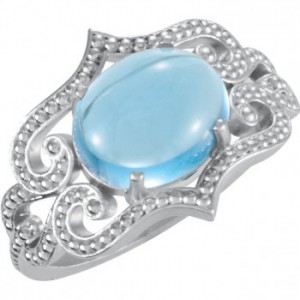 GEMSTONE JEWELRY
It's also important to consider hair color when dealing with colored gemstones. Your hair color is the most prominent color in your entire wardrobe because you wear it each and every day. For brown-haired ladies, green gemstones are the best choice. Green gems provide a subtle dark-light contrast while still illuminating your skin. Ideal gemstones include tourmaline and green sapphire.
For blonde hair, pastel is all the rage. Pastels are the perfect choice because they highlight the lightness found in blonde locks without being overwhelming. Blue topaz will look especially stunning on blondes with blue eyes, while pink tourmaline will effortlessly highlight brown-eyed blondes.
When it comes to dark brown or black hair, the true fun begins. Orange hued gemstones will provide a breathtaking contrast. Fire opal is our gem of choice for dark-haired women.
For gray-haired women, purple is the clear winner because it naturally complements silver hues. In fact, amethyst is a match made in heaven. Although blondes supposedly have more fun, red-haired women seem to be a close second. With locks that look spectacular with green gemstones like emerald, it's hard not to be jealous. Regardless of pattern, combination or hair color, find a gemstone color that you feel fabulous in and you'll be sure to shine.
Browse an immense collection of finest-quality gemstone jewelry at the most reasonable prices only at Ellis Fine Jewelers.