Tenth Annual

Future Jewelry Designer Contest

Rules:
Students (grades 3-5, 6-8 and 9-12) may design a ring or a pendant. The winning design will be manufactured and presented to the student! Winning contestants can give the finished piece to someone special if they so choose.
Students may sketch final design on the back of this entry form or attach additional paper to this entry form. (Ellis Jewelers suggests sketching your design on scratch paper before the final design is applied to your entry form).
All designs must be submitted, in person, by mail or by web to Ellis Jewelers no later than Saturday, April 10, 2021 by 5:30pm.
All entries will be judged April 11, 2021.
Winning designs will be chosen April 12, 2021 with finished products presented to winning students Thursday, May 27, 2021.
Teachers, please feel free to contact Dan Levinson at Ellis Jewelers with any questions. Dan@EllisFineJewelers.com or 704.782.9314.
Judging Criteria:
Practicality of creating the piece.
Ability to create the piece exactly as the student designed it without sacrificing intent.
How functional the piece would be.
Creativity of design
Presentation of design (legible handwriting, clean lines, proper explanation of stones and metals desired).
Please tell students to put their final designs on the Ellis Jewelers design sheet. If, necessary they can put their final design on another piece of paper and clip to Ellis Jewelers designer sheet.
The design you submit for this content must be your original idea and work. Do not copy an existing piece of jewelry.
*No purchase necessary. Three designs (one grade 3-5, one grade 6-8 and one grade 9-12) will be chosen.

Every effort will be made to adhere to winning student's original design. However, Ellis Jewelers reserves the right to modify the design and select metals and gemstones at the discretion and suggestion of our jeweler. Name, grade, school, teacher, home address and home phone number must be clearly written on your entry form to qualify.

Past Winners and notable mentions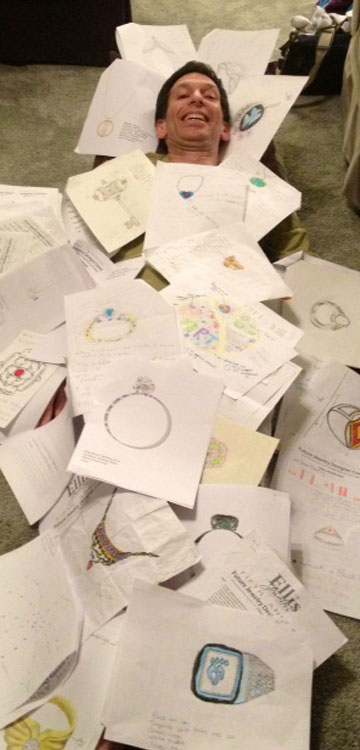 "We Love to see Dan get buried in entries!" Visit this page after the contest to see this years
winner and our gallery of past FUTURE DESIGNERS!

LIKE US ON FACEBOOK