Buying a Men's Wedding Band is a once-in-a-lifetime investment, so, it has been as perfect and as beautiful as your relation. Usually, men don't like to wear a lot of jewelry, they become very choosy when it comes to wearing jewelry, even if it is a wedding band. While choosing the perfect wedding band for men, women usually become clueless.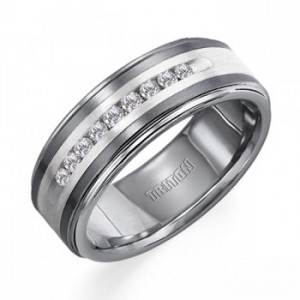 So, in today's blog, we are serving you with few considerations you should ponder while selecting Wedding Bands for men.
Men's Wedding Bands: The Complete Guide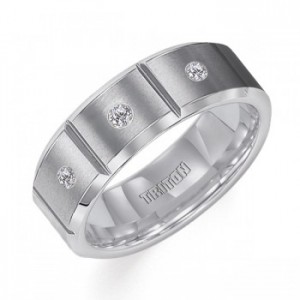 A guy usually puts a ton of thought into selecting an engagement ring for his fiancé, but when it's time to choose his own wedding band he may realize that he's clueless about the options.
If that describes you, don't let your ring be an afterthought! Since you'll be wearing it for the rest of your life, and it may even be the only piece of jewelry you wear, you should love your wedding band every bit as much as your fiancé loves her carefully selected rings. There are six things to consider when choosing wedding bands for men: width, metal choice, fit, finish, detailing and engraving.
Width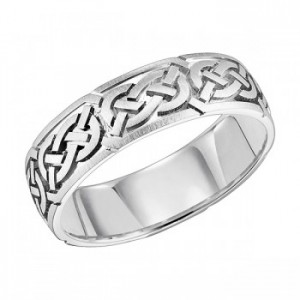 How wide do you want your ring to be? Try on a few men's wedding bands in a variety of different widths to decide what you like best. Wider rings tend to be more expensive (since they require a larger quantity of precious metal), but you can balance size and price by choosing a metal that's within your budget. For example, palladium looks very similar to platinum and white gold, but costs less.
Metal Choice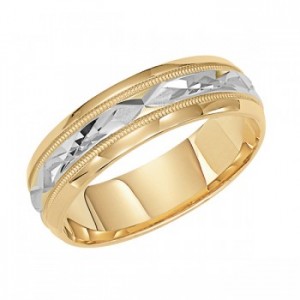 The metals traditionally used for men's wedding rings are platinum, white gold, yellow gold, rose gold and palladium. Here are the benefits of each:
Platinum - Platinum is extremely durable and is among the rarest elements in the earth's crust. It is also hypoallergenic and almost never causes skin reactions.
White Gold - White gold is gold plated in rhodium, a member of the platinum family, which gives it a brilliant white color similar to platinum's but at a lower price point (note: the rhodium plating on white gold jewelry may need to be replaced after a decade or so).
Yellow Gold - Yellow gold gives off a subtle, warm glow and is a classic option.
Palladium - Palladium is a member of the platinum family of metals and has a very similar look, but generally costs less than platinum and white gold.
Rose Gold - Rose gold is a beautiful, less common choice and creates a unique vintage effect. It's perfect for a groom who wants a more distinctive look.
Fit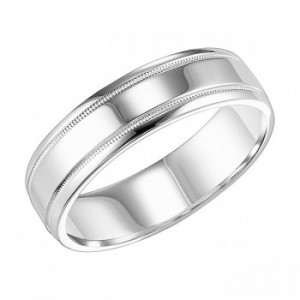 The edges of men's wedding bands can be curved or flat, forming right angles to the sides of the ring. Our popular Comfort Fit band has gently rounded edges, which can make it a good choice for men who are concerned about how it will feel to wear a ring every day. Try on a number of different rings to get a sense of which fit feels right to you.
See full post here: https://www.brilliantearth.com/news/male-wedding-bands-a-complete-guide/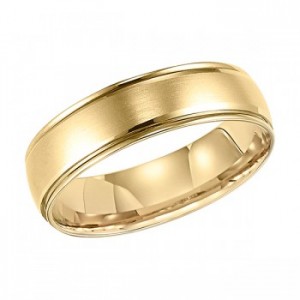 If you are seeking exclusive collection of a simple yet unique wedding band for men, then visit Ellis Fine Jewelers. We provide a wide range of Wedding Bands that can perfectly suit your man's personality. You can also give us a call on 704-782-9314.