Our bridal collection at Ellis Jewelers is something to behold! Be it a loose stone and mounting, diamond wedding band, ring guard, or anniversary band, our selection is tops! We offer the latest styles in engagement rings, bridal sets, and matching wedding bands - ones just right to suit every taste. From modern to classic, we offer a wonderful selection to help you express your love for one another to last for all time. Below are some gorgeous engagement rings; engagement rings being the discussion of this blog. The first one is a ring that we can create and customize just for you. The second and third are ones available directly in our store. Come in to see them and try them on! Our Carizza Line One bridal line that we are very proud to offer is our Carizza Line. It is newer to our store and is just beautiful! The pieces are in 18K white, yellow or rose gold, with some pieces in two-tone as well. Each diamond on each piece is hand selected for highest quality and is set with care. The rings are all customized with Euro-shanks; a feature which helps to minimize spinning on a woman's finger. The detailing on the mountings is just exquisite and must be seen to appreciate. Right now we have an emerald cut, cushion cut, pear shaped and rounds diamond each mounted in a unique setting just waiting for the right finger! Or we can customize the ring shown in the picture by helping you choose the perfect loose diamond.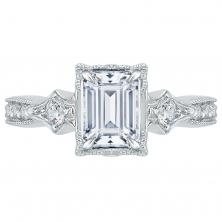 Carizza Mounting with Emerald Cut Diamond[/caption] Estate Bridal Rings Our Estate collection is one of the finest around. We have some incredible pieces, including bridal rings. Check out this gorgeous ring new to our Estate collection. It is an antique mounting set with a stunning 1.25 Carat ,VS2, H in color Diamond. It has that one of a kind look and would be perfect for the new bridal. It is also perfect for that "already married" couple looking for a special gift to celebrate their marriage. For those wanting a timeless look at an amazing value, Estate rings offer just that!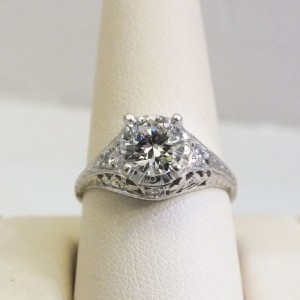 In-store Selection The selection we have of diamond engagement rings is extensive. We have many classic solitaires in several diamond shapes - include round brilliant and princess cut. We also have an amazing hexagonal halo mounting available in white or yellow gold just waiting for the stone of your choice. This is one of our store favorites and is worth the trip down to see its real beauty. Come in to see some other unique diamond rings, such as our round brown diamond ring, our halo sideways mounted marquis cut diamond, and our radiant diamond mounted in leaf and antinqued inspired mounting.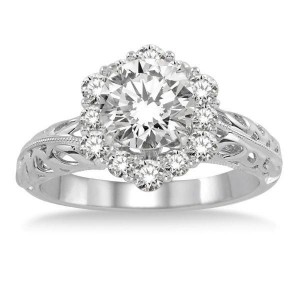 We are very proud of our diamond ring selection at Ellis Jewelers. We take a lot of time to research current trends by listening to our clients, attending jewelry shows, and reading the latest jeweler's news. We also make sure that we have a wide variety of styles for every budget, including our Estate collection. Whether you are looking for a classic style or something a little trendy, we can help you choose the engagement ring just for you - one that expresses your love in its own special way. Our experienced staff is ready to put that smile on your face that will last a lifetime.