An engagement ring is viewed as the ultimate sign of love by so many. The decision to spend the rest of your life with one person above all the rest is certainly not something to take lightly. When you are ready though, here are some things that you may want to think about when choosing a ring for that special one.
Consider A Matching Set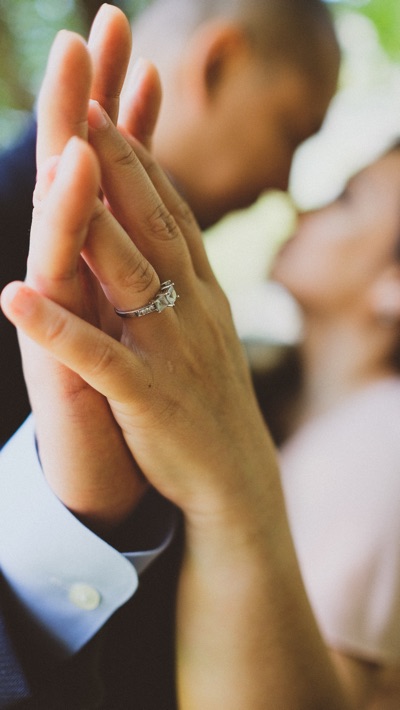 When choosing an engagement ring, there will inevitably come another ring. The wedding band. So, before you go all out on that custom engagement ring that is one of a kind, hear me out. You may want to be prepared to get a custom wedding band as well. Which can get pricey. No one wants to put a price tag on love, but the reality is that women like to stack their rings. If you want to go custom on the engagement ring then you will probably need to that on the wedding band as well.
The reason a matching set could work is because they are made to be worn together. IF you get a custom ring that has an odd shape for the way it wraps around the finger, then it may be hard to find one that matches when you start looking for a wedding band. A matching set takes care of this problem for you.
There Is A Reason Behind Stacking
When you give an engagement ring to someone, they probably are going to want to wear it forever, and why shouldn't they? So stacking rings makes sense. The usual way to do it is to wear the wedding band first, then the engagement ring on the outside. The wedding band is meant to be worn on the inside so it is closer to the heart.
There are also other traditions like another wedding band on the outside for motherhood. So you can see here that having an oddly shaped engagement ring may make it difficult to add another ring. A matching set isn't always necessary, but a ring that makes stacking accessible may be a smart bet.
Check out this matching bridal set.
When All Else Fails; Ask!
If you aren't sure about what kind of style your future partner may want, then ask. If you want to be sneaky about it, you can try to subtly get information from friends and family. It's not altogether out of the ordinary to have an open conversation about what she may want for an engagement and wedding band. That is, of course, if your relationship is to that point.
The most important thing to keep in mind when shopping for rings is that it should be a symbol of your love and devotion. That may not come in a matching set. That may come straight from the heart, so if you want to go custom just make sure you know what she wants or if you want to come in together and decide you do that as well.