There are four categories that jewelers use to determine the value of a loose diamond. Each diamond is drastically different than the next so as you can imagine, the spectrum is pretty large. Some diamonds are more valuable and those are the ones used to make fine jewelry. Other diamonds that are not as valuable are sometimes used in dentistry and drilling. What we know about loose diamonds is that they are very gorgeous, people love them and they are naturally created by the earth. These few, but certainly not all, facts about loose diamonds make them even more intriguing to people like you and me. It is no wonder they are so popular nowadays.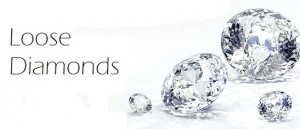 The certified loose diamonds you see in your local jewelry store were formed underneath your feet billions of years ago. Carbon atoms bonded together so tightly in order to withstand the intense heat and pressure found over a hundred miles into the earth. The atoms are what eventually turned into the gorgeous gems you see in your local jewelry store's display cases. They have since been perfectly polished and meticulously cut to be the best of the best loose diamonds in the world! They certainly are pretty.
Comments Off

on Where Do Diamonds Come From?